Faculty Profiles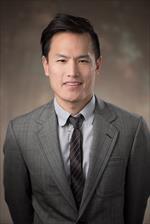 Sun-Chuan Dai, MD
M_MED-ZSFG-GAST
Assistant Professor
1001 Potrero Ave Bldg 5
San Francisco, CA 94110


Education and Training

| Location | Degree or Training | Specialty | Date |
| --- | --- | --- | --- |
| University of Pennsylvania | Advanced Endoscopy | | 2014 |
| Boston University Medical Center | Gastroenterology | | 2013 |
| Cedars-Sinai Medical Center | Internal Medicine | | 2009 |
| Baylor College of Medicine | MD | | 2006 |
Interests
Endoscopic ultrasound, autoimmune pancreatitis, benign and malignant biliary stricture management, cholangiocarcinoma, endoscopic retrograde cholangiopancreatography (ERCP), intragastric weight-loss balloons, neuroendocrine tumors of the gastrointestinal tract, other pancreaticobiliary disorders including ampullary adenoma resection, pancreatic cancer, pancreatic cysts (diagnosis and management), staging of gastrointestinal cancers, stone disease
Recent Articles (6)
Dai SC, Goldberg D, Agarwal A, Ma GK, Yam C, Ahmad NA, Ginsberg GG, Jaffe DL, Kochman ML, Olthoff KM, Chandrasekhara V. Endoscopic Therapy is Effective for Recurrent Anastomotic Biliary Strictures after Orthotopic Liver Transplantation. Ann Hepatol. 2017 November-December,; 16(6):924-931.
Cuevas-Ocampo AK, Bollen AW, Goode B, Pajtler KW, Chavez L, Sharma T, Dai SC, McDermott M, Perry A, Korshunov A, Solomon DA. Genetic confirmation that ependymoma can arise as part of multiple endocrine neoplasia type 1 (MEN1) syndrome. Acta Neuropathol. 2017 04; 133(4):661-663.
Dai SC, Paley M, Chandrasekhara V. Intragastric balloons: an introduction and removal technique for the endoscopist. Gastrointest Endosc. 2015 Dec; 82(6):1122.
Pimentel M, Morales W, Lezcano S, Sun-Chuan D, Low K, Yang J. Low-dose nocturnal tegaserod or erythromycin delays symptom recurrence after treatment of irritable bowel syndrome based on presumed bacterial overgrowth. Gastroenterol Hepatol (N Y). 2009 Jun; 5(6):435-42.
Khoshini R, Dai SC, Lezcano S, Pimentel M. A systematic review of diagnostic tests for small intestinal bacterial overgrowth. Dig Dis Sci. 2008 Jun; 53(6):1443-54.
Select data provided by UCSF Profiles, powered by CTSI at UCSF. Learn more about the data source.