Faculty Profiles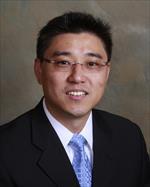 Bruce Wang, MD
M_MED-CORE-GAST-GEN
Assistant Professor
513 Parnassus Ave
San Francisco, CA 94143


My lab studies how the different cell types in the liver, in particular the hepatocyte, are generated during development, patterned and maintained during adulthood, and regenerate after injury. Our long-term goals are to improve the understanding of liver disease pathophysiology and develop novel methods of treatment for liver diseases, including cell replacement therapy. Currently, we have two major research focuses: 1) understanding the biology of adult hepatocyte stem cells and 2) developing a liver cell atlas. We take innovative and integrated approaches to address these two areas using the tools of stem cell biology, developmental biology, genomics and tissue engineering.


I also study the porphyrias, a group of inherited diseases related to defects in heme synthesis pathway. I am a member of the Porphyrias Consortium, a NIH sponsored Rare Disease Clinical Research Consortium. The purpose of the network is to integrate translational studies of the porphyrias with clinical trials testing new therapeutics.
Education and Training

| Location | Degree or Training | Specialty | Date |
| --- | --- | --- | --- |
| Stanford University / HHMI | Postdoctoral Fellow | Developmental Biology (Lab of Roel Nusse) | 2016 |
| University of California San Francisco | Fellowship | Division of Gastroenterology | 2011 |
| University of California San Francisco | Residency | Department of Medicine | 2009 |
| University of California San Francisco | M.D. | School of Medicine | 2007 |
| Stanford University | BAS | Biological Sciences and Philosophy | 2000 |
Awards and Honors

| | |
| --- | --- |
| 2016 | Career Award for Medical Scientists, Burroughs Wellcome Fund, 2016-2021 |
| 2006 | Dean's Prize in Research, UCSF School of Medicine, 2006 |
Related Web Sites
Recent Articles (12)
Balwani M, Wang B, Anderson KE, Bloomer JR, Bissell DM, Bonkovsky HL, Phillips JD, Desnick RJ. Acute hepatic porphyrias: Recommendations for evaluation and long-term management. Hepatology. 2017 10; 66(4):1314-1322.
Balwani M, Naik H, Anderson KE, Bissell DM, Bloomer J, Bonkovsky HL, Phillips JD, Overbey JR, Wang B, Singal AK, Liu LU, Desnick RJ. Clinical, Biochemical, and Genetic Characterization of North American Patients With Erythropoietic Protoporphyria and X-linked Protoporphyria. JAMA Dermatol. 2017 Aug 01; 153(8):789-796.
Gou EW, Balwani M, Bissell DM, Bloomer JR, Bonkovsky HL, Desnick RJ, Naik H, Phillips JD, Singal AK, Wang B, Keel S, Anderson KE. Pitfalls in Erythrocyte Protoporphyrin Measurement for Diagnosis and Monitoring of Protoporphyrias. Clin Chem. 2015 Dec; 61(12):1453-6.
Wang B, Zhao L, Fish M, Logan CY, Nusse R. Self-renewing diploid Axin2(+) cells fuel homeostatic renewal of the liver. Nature. 2015 Aug 13; 524(7564):180-5.
Bissell DM, Wang B. Acute Hepatic Porphyria. J Clin Transl Hepatol. 2015 Mar; 3(1):17-26.
Cascino MD, McNabb B, Gardner DG, Woeber KA, Fox AN, Wang B, Fix OK. Acute liver failure with thyrotoxicosis treated with liver transplantation. Endocr Pract. 2013 May-Jun; 19(3):e57-60.
Malato Y, Naqvi S, Schürmann N, Ng R, Wang B, Zape J, Kay MA, Grimm D, Willenbring H. Fate tracing of mature hepatocytes in mouse liver homeostasis and regeneration. J Clin Invest. 2011 Dec; 121(12):4850-60.
Wang B, Dolinski BM, Kikuchi N, Leone DR, Peters MG, Weinreb PH, Violette SM, Bissell DM. Role of alphavbeta6 integrin in acute biliary fibrosis. Hepatology. 2007 Nov; 46(5):1404-12.
Wang B, Dhaliwal G, Sleisenger MH. Six decades of progress and change in hospital medicine, 1947-2007. Pharos Alpha Omega Alpha Honor Med Soc. 2007; 70(1):10-5.
Jakubowski A, Ambrose C, Parr M, Lincecum JM, Wang MZ, Zheng TS, Browning B, Michaelson JS, Baetscher M, Baestcher M, Wang B, Bissell DM, Burkly LC. TWEAK induces liver progenitor cell proliferation. J Clin Invest. 2005 Sep; 115(9):2330-40.
Winter CG, Wang B, Ballew A, Royou A, Karess R, Axelrod JD, Luo L. Drosophila Rho-associated kinase (Drok) links Frizzled-mediated planar cell polarity signaling to the actin cytoskeleton. Cell. 2001 Apr 06; 105(1):81-91.
Select data provided by UCSF Profiles, powered by CTSI at UCSF. Learn more about the data source.